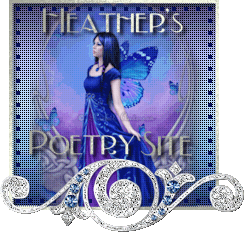 Hello and welcome to Heather's Poetry Site. This is my personal website dedicated to my writing, most of which (as the title of this website indicates) is my original poetry. Here you will find many of my poems, as well as my dedication pages, awareness pages, and spirit pages for the different teams on website competitions I compete in. A scroll box (which includes a Site Index) is below that will take you to all of these pages.
Please feel free to take a look around, but leave everything where you find it as all of my writing is copyrighted soley by me with all publication rights reserved and the graphics and websets found on this site have been used by permission. If you don't mind, please sign my guestbook below to let me know you were here. Also feel free to email me anytime! Thanks again and come back soon!
Please sign my guestbook and let me know you were here!

View my Guestbook
Free Guestbooks by Bravenet.com
My Facebook Page, please "like" to get updates about this site!
Back To Top
Follow my site on Twitter!
DISCLAIMER: Please note that the views expressed on this website are my own and do not reflect the views of my employer. Also note that any views expressed in the guestbook or other websites linked on these pages are the personal views of the author(s) and are not necessarily a reflection of my own personal views. Thank you.
Please feel free to visit my sister site by clicking the banner below. This site, Wednesday Moon's Lair is my other poetry site containing some of my older and darker poetry not found on this site:

Email The Webmaster
Webset is linkware © DeezignsbyDee
Back To Top